Specialty Louvers and Dampers
Carnes Company now offers several specialty louver and damper products to meet all of your specific applications. We are pleased to announce our newest louver and damper product offerings:
Carnes BLAST Dampers are designed to protect buildings and structures against interior or exterior sudden blasts. FEMA Louvers protect exterior wall openings against high wind loads and wind-borne debris on FEMA compliant shelters. Carnes ACOUSTICAL Louvers are available in galvanized or aluminum construction, with a sound absorber of advanced microfibers.
Please click here for more information.
Carnes Drop Box (Model TDBA)
The Carnes drop box is designed for applications with large open spaces with high ceilings requiring a large amount of airflow and adjustability in air flow patterns. The Carnes TDBA drop box can handle a range between 800 CFM and 18,300 CFM. This diffuser works very well in open ceiling plans and applications that require long throws. The TDBA is available in 4-way or 6-way blow configurations and can be ordered in sizes 14 x 14 through 42 x 42.
Features include the following:
Sizes from 14 to 42
Available with drum louvers or double deflection grilles. Dampers are optional.
Optional deflector with turning vanes.
Standard color is #11 bright white. Other colors available upon request. Please contact factory.
Standard insulation is 1" matte faced fiberglass insulation. Optional bottom grille with balancing damper on 6-way blow units, size 24 and above.
Full performance data available.
18 gauge top and bottom.
TDC flange included.
For units other than 4-way or 6-way blow patterns, please contact factory.
Please click here for more information.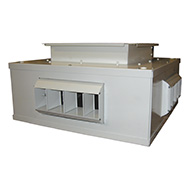 Carnes is a member of the Air Conditioning and Refrigeration Institute (ARI) and the Air Movement and Control Association (AMCA) and maintains certified catalog performance in relevant product groups for the highest assurance of performance accuracy. Intertek Testing Services (ITS) formerly known as ETL Testing Laboratories provides Carnes with ETL listings. Underwriters Laboratories provides Carnes with UL and CUL listings in Canada. Both listings are standard or optional on many Carnes products.